Chocolate Teff Bundt Cake
Yield: 9-10 inch cake, 16 servings
Prep time: 30 minutes
Total Time: 1 hour 30 minutes

Make the Cake
1. Position a rack in the center of the oven and preheat to 350ºF. Use a pastry brush to very thoroughly butter the inside of the bundt pan, being sure to get into all the little nooks and crannies. The butter should be at room temperature and the consistency of mayonnaise so that it clings to the pan, not melted which will run down the sides of non-stick pans and not do any good. When the pan is thoroughly coated, dust the pan with a few tablespoons of teff flour, tapping it around the the interior to cover every surface. Turn the pan over in the sink and gently tap the pan to remove any excess flour.
2. In a large mixing bowl, sift together the teff and sweet rice flours with the cocoa powder, baking powder, baking soda, and salt. Add the brown sugar, crème fraiche, melted butter, vanilla, and hot water to the batter. Add the eggs and quickly whisk the batter until smooth and no lumps remain.
3. Pour the batter into the prepared pan and bake until the top springs back to the touch and a toothpick comes out with moist crumbs, 45-55 minutes. Remove from the oven and let cool at least 10 minutes. Invert a wire rack over the bundt pan, grasp both with oven mitted hands, and flip the whole thing over. Remove the bundt pan and let the cake cool completely on the wire rack, about 1 hour.
Ingredients
- 2 teaspoons softened butter, for the pan
-1 ½ cup (233 g) cups of Brown Berhan Teff Flour, plus more for dusting the pan
- 1/2 cup (80 g) sweet rice flour
- 1/4 cup (30 g) tapioca flour/starch (or an additional tablespoon sweet rice flour)
- 1 cup + 2 tablespoons of dutch-processed cocoa powder
- 2 teaspoons of baking powder
- 1 teaspoon of baking soda
- 1 ½ teaspoons fine sea salt
- 2 ¼ cup (530 g) packed organic light brown sugar
- ¾ cup (177 ml) crème fraiche
- 8 tablespoons (113 g) unsalted butter, melted
- 2 teaspoons vanilla extract
- 1 ¼ cups (300 ml) hot water
- 3 large eggs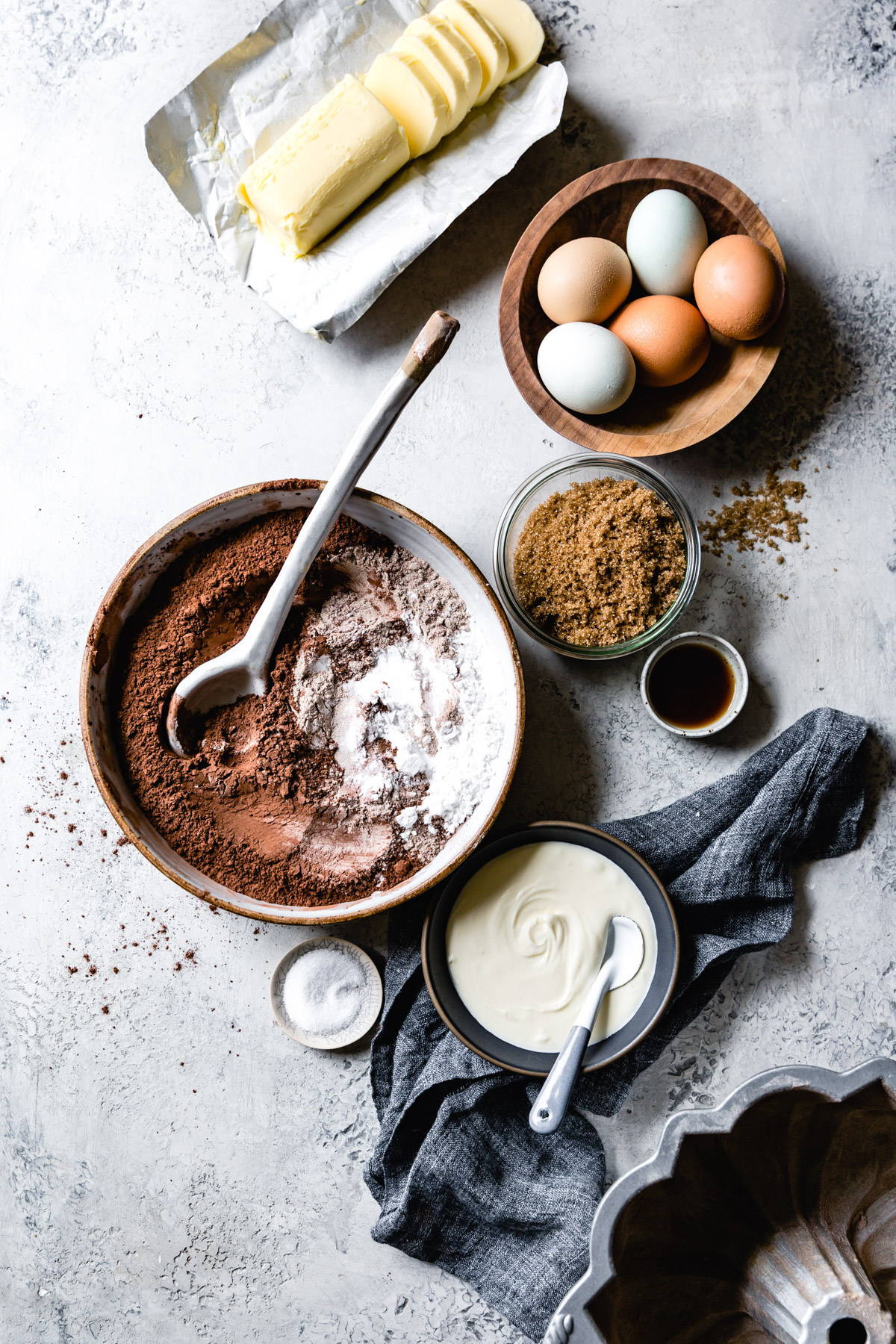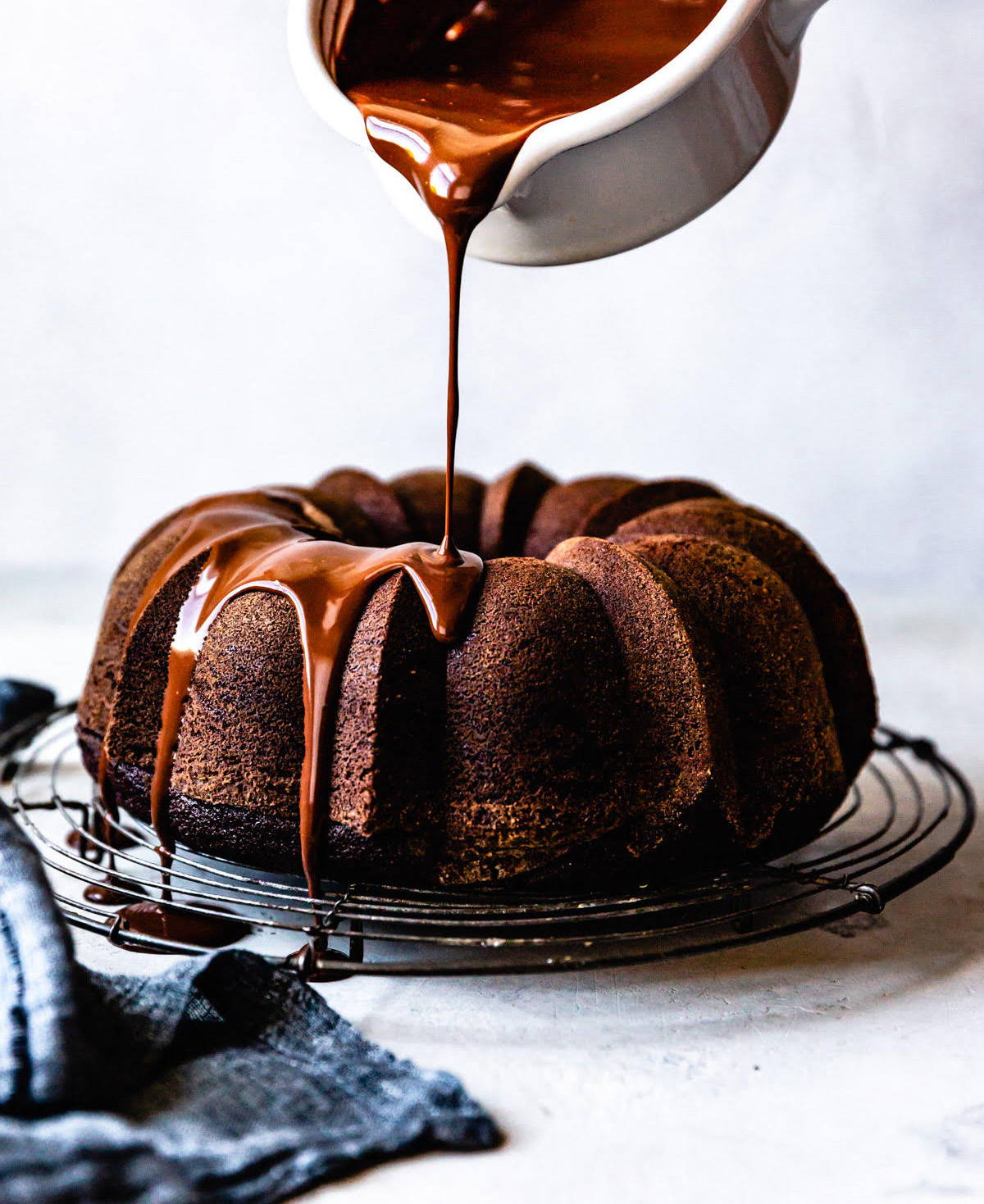 Make the Ganache

1. In a small saucepan, bring the cream to a bare simmer over medium heat. Remove the pan from the heat and add the chocolate. Let sit until melted, about a minute, then gently whisk until smooth. Whisk in the crème fraiche, whiskey, vanilla and salt. The ganache should be thick but pourable; if it's too thin, let sit at room temperature to thicken up a bit. If it's too thick, warm over a low flame for a few seconds, stirring constantly.
2. Pour the ganache over the cake. Let set at room temperature until firm enough to slice, 20 minutes or so.
Ingredients
- 4 ounces bittersweet chocolate (70% cacao mass), finely chopped (about 1 cup)
- ¼ cup + 2 tablespoons heavy cream
- ¼ cup crème fraiche
- 1 tablespoon GF whiskey or bourbon (or brandy, dark rum, or extra cream)
- 1/8 teaspoon fine sea salt
- ½ teaspoon vanilla extract
Whip the Crème Fraîche
1. In the bowl of a stand mixer fitted with the whip attachment (or in a large bowl with a balloon whisk or electric beater), combine the cream, crème fraiche, sugar, and vanilla. Whip on high speed until soft peaks form. Serve slices of cake with big dollops of whipped crème fraiche.
2. Store leftover cake at room temperature for up to 1 day or refrigerate airtight for up to 4 days. Bring to room temperature before enjoying.
Ingredients
- ¾ cup heavy cream
- ½ cup crème fraiche
- 2 teaspoons granulated sugar
- ½ teaspoon vanilla paste or extract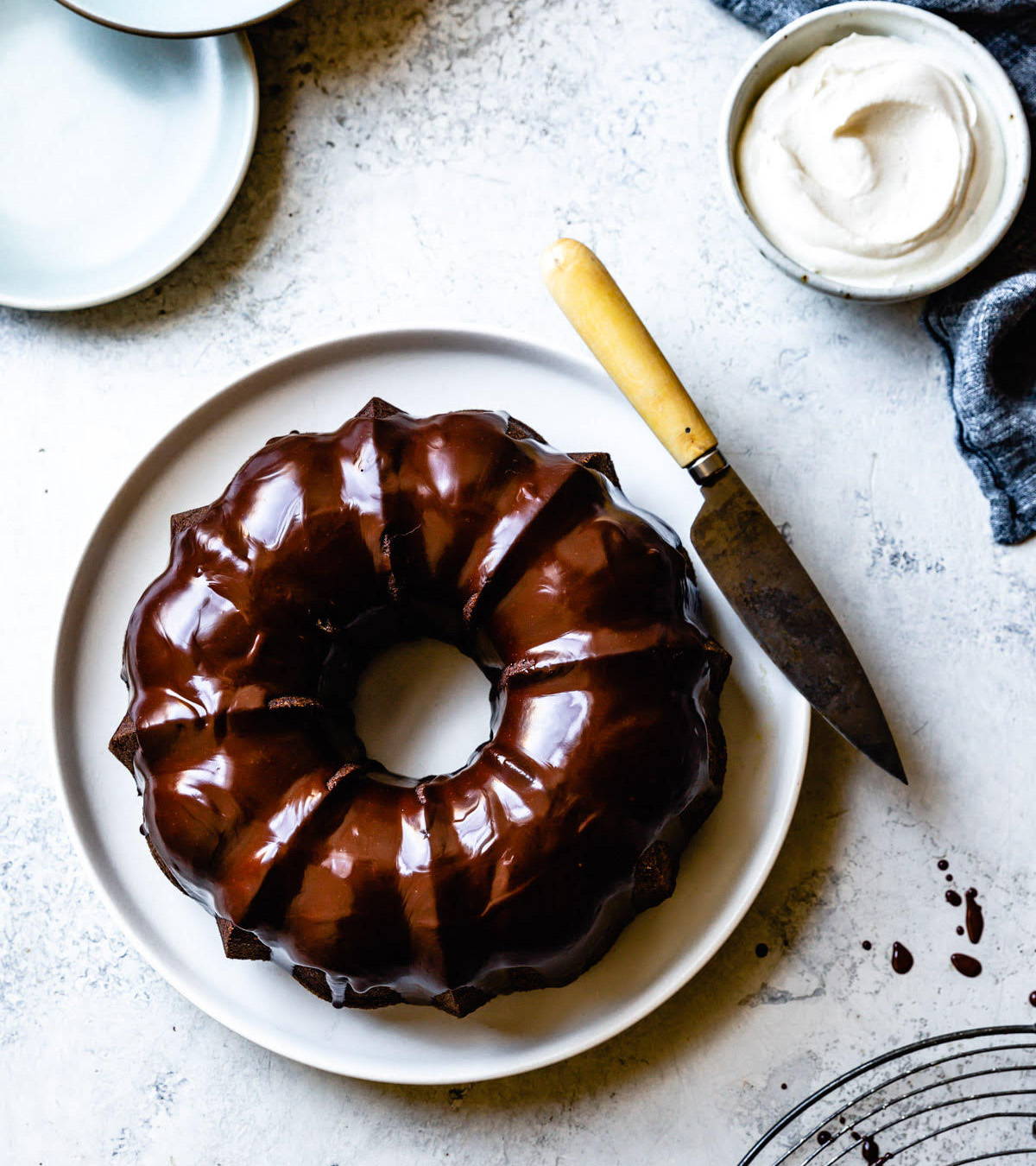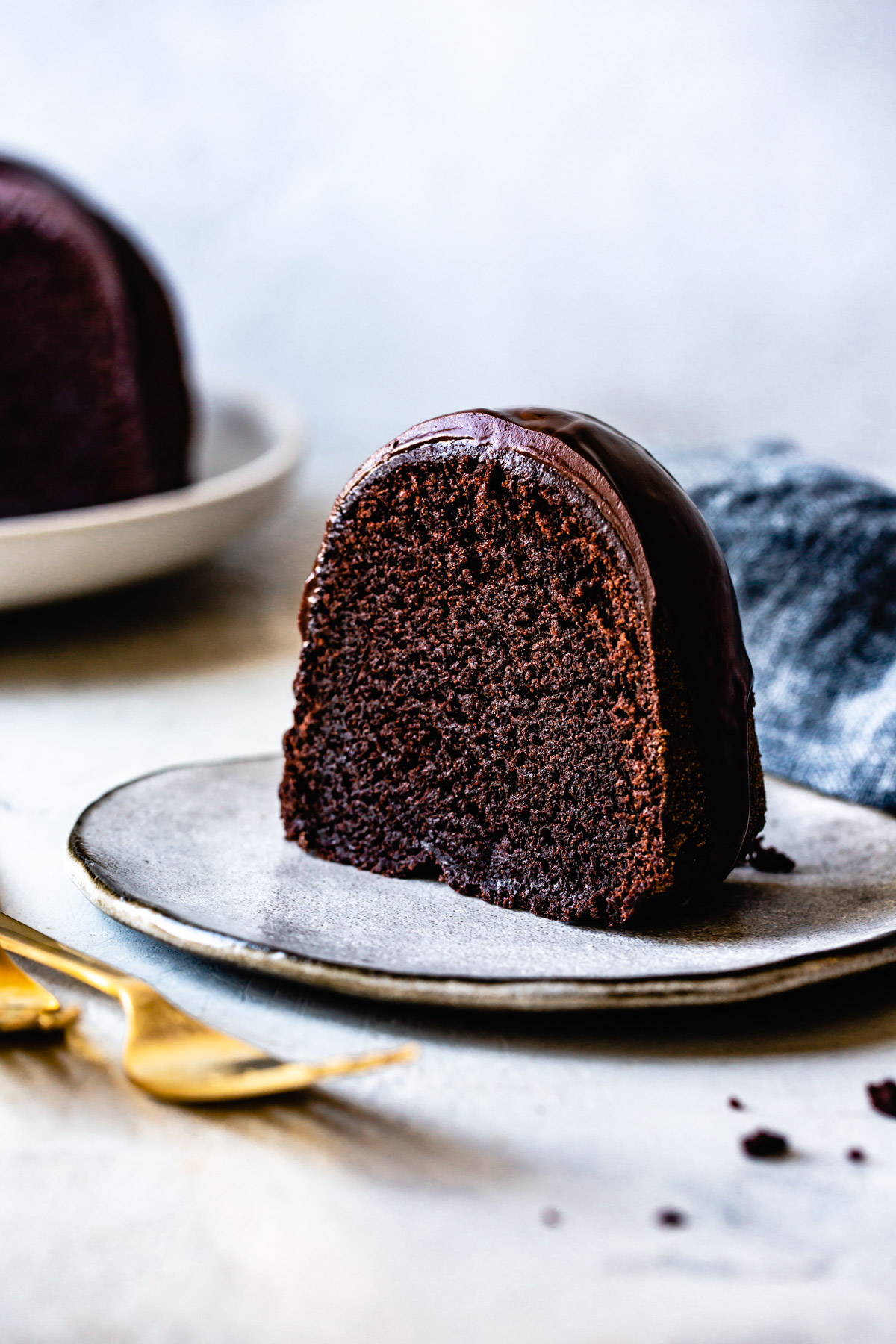 This recipe was inspired by and originally developed by our friend at The Bojon Gourmet Alanna Taylor-Tobin, check out her site and cookbooks to see some more teff recipes!
Got an interesting teff recipe of your own? Share it with us for a chance to win a 5 lb bag of teff flour and be featured on our website and social media! Email submissions to info@berhan.co with the subject: Teff Recipe Submission