Yield: 3 servings
Prep time: 10 minutes
Total Time: 20 minutes

Make Gluten-Free Teff Pancakes in 4 Easy Steps!
Start your day off right with these nourishing teff pancakes! They're crispy on the outside with fluffy, tender middles redolent with the flavor of Berhan Teff Flour!

1. In a large bowl, whisk or sift together the teff flour with the baking powder, baking soda, and salt.
2. In a measuring pitcher or bowl, whisk together the buttermilk, egg, maple syrup, and vanilla.Pour the buttermilk mixture into the flour mixture and quickly stir with a flexible spatula until halfway combined; 8 to 10 strokes. Pour in the melted butter and quickly but gently mix until the batter is just combined and no butter or flour streaks remain. Some lumps are ok. Take care not to overmix the batter or it will become thin and the pancakes will cook up flatter and more tough.
3. Set the batter aside for a minute or two to thicken. Meanwhile, preheat a wide skillet or griddle over medium heat. I prefer well-seasoned cast iron or ceramic nonstick. When the pan is hot, lower to medium-low or low.

Teff Pancake Ingredients
- 2 cups of Berhan Ivory Teff Flour
- ½ teaspoon of baking powder
- ½ teaspoon of baking soda
- ½ teaspoon of fine sea salt
- 1 cup of well-shaken buttermilk (add 2-4 more tablespoons if you want more thin, crisp teff pancakes)
- 1 large egg
- 1 tablespoon maple syrup, plus more for serving ;)
- 1 teaspoon vanilla extract
- 3 tablespoons butter, meltedghee or neutral high-heat vegetable oil (such as sunflower), for cooking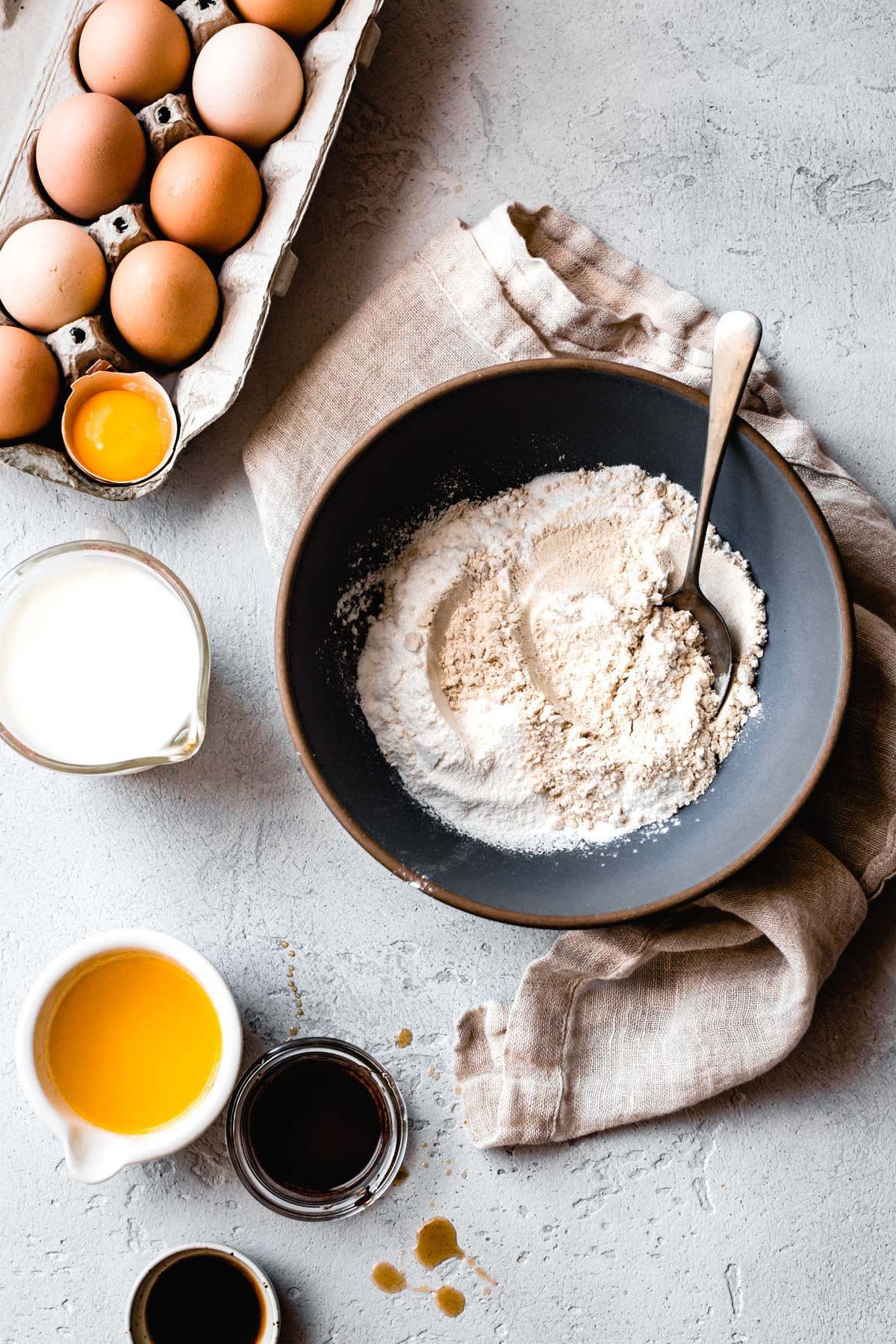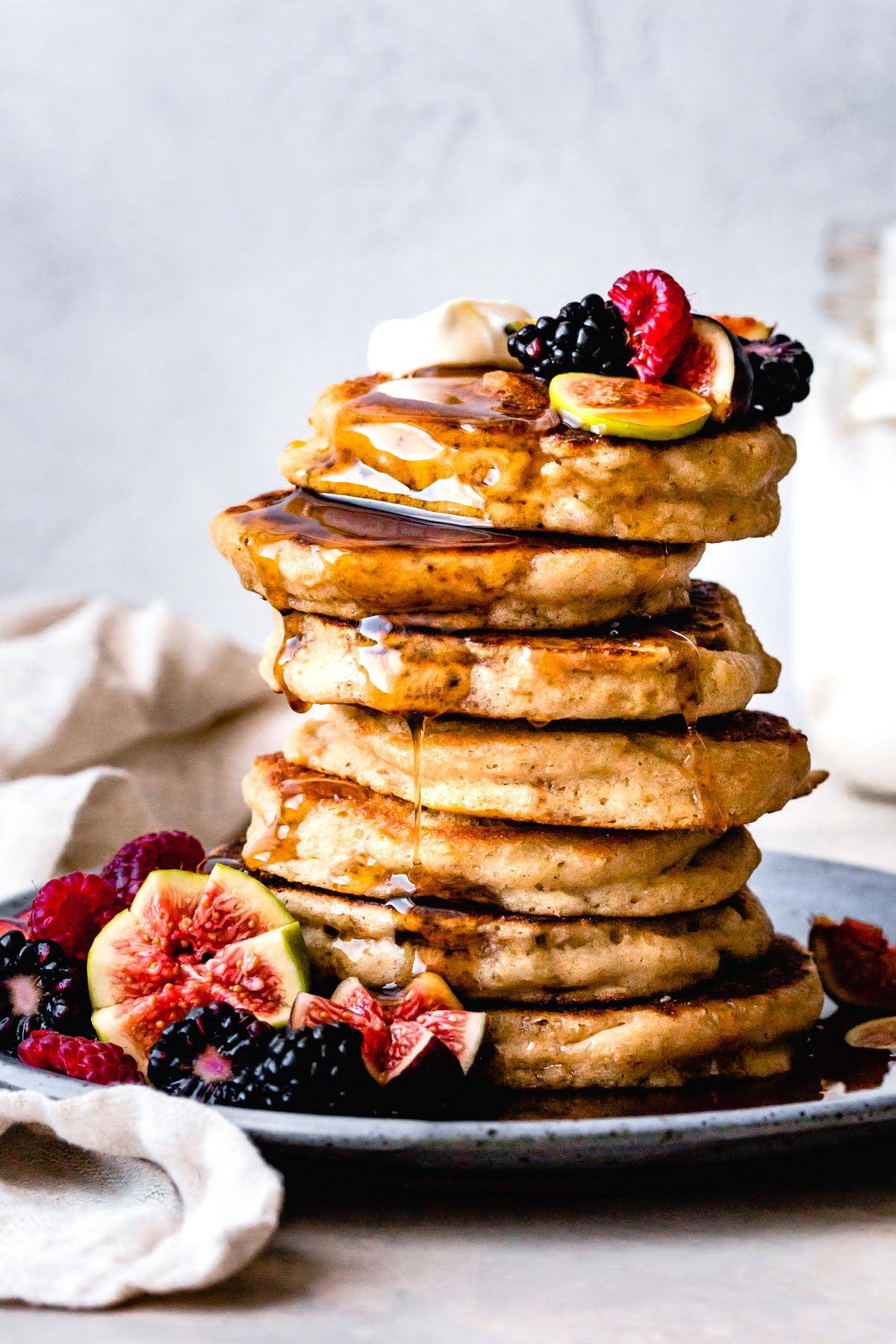 4. Coat the hot pan with a thin layer of ghee or oil. Drop the batter by ¼ - 1/3 cups into the hot oil. Cook on the first side until the bottoms are golden, 2-3 minutes. Gently flip, taking care not to deflate the pancakes. Cook on the second side until the bottoms are golden, 2-3 more minutes. Remove the pancakes to a wire rack. When you're ready to serve, reheat any cooled pancakes in the hot pan. Alternatively put them in a low oven while you cook the remaining pancakes. Serve with your favorite toppings. I like mine piled high with fresh seasonal fruit, a big dollop of Greek yogurt, a sprinkle of hemp seed, and a drizzle of maple syrup.
Bonus Tip!
Pancakes can be made ahead and warmed in a hot skillet or toaster oven when ready to serve. They will keep for up to 4 days airtight in the refrigerator.
Optional Serving Ingredients
- maple syrup
- seasonal fruit
- Greek yogurt
- hemp seed
This recipe was inspired by and originally developed by our friend at The Bojon Gourmet Alanna Taylor-Tobin, check out her site and cookbooks to see some more teff recipes!
Got an interesting teff recipe of your own? Share it with us for a chance to win a 5 lb bag of teff flour and be featured on our website and social media! Email submissions to info@berhan.co with the subject: Teff Recipe Submission